Bhera has a long history — and a lot to offer.Omar Mukhtar KhanUpdated about 18 hours ago
The first time I heard of Bhera was when a friend of my father's brought pheonian, a kind of vermicelli, to our house claiming these to be the best in the subcontinent.
For a long time, Bhera for us was just a small town somewhere near Sargodha. It was when the Motorway opened in 1997 that it slowly became recognised more as a popular pitstop.
A few weeks ago, I found myself on my way to Bhera with a long-time friend. We wanted to get out of Lahore and explore, so we decided upon Bhera, which was incidentally my friend's ancestral town as well. Some frantic calls and we had Nayyar waiting for us near the town's Chakwala gate.
Bhera, or Bheda from older times, existed probably since 400 BC. There are accounts of Mahmud of Ghazni raiding the city in the 10th century or Genghis Khan's forces ransacking it later. More recently, Bhera was a trading town on the western side of the River Jhelum and was shifted east of the river after being attacked by different armies around the early 16th century.
As was common in those days, Bhera was established inside a fort with tall walls and around eight gates. Few of these structures remain today and whatever is left is fast on its way to ruins, thanks to disregard for heritage.
Some of the gates are named after the major cities in whose direction they open: Lahori, Kashmiri, Multani, Chinioti and Kabuli, while others like Peeranwala or Haji Gulab gates are names for peculiar local reasons.
Bhera is divided into an old walled city and a sprawl beyond the walls. The former is further split into mohallas. Interestingly, each mohalla has distinct traits and is inhabited by different castes — Mohalla Piracha, Mohalla Sheikhan and Mohalla Sethian — though times are changing and these boundaries are becoming less important.
Nayyar first led us to a grand haveli belonging to a long time friend in Mohalla Piracha. The view from the rooftop of his old haveli was exquisite, with green farms giving way to the River Jhelum and the Salt Range in the backdrop. You could spend a soothing evening reading books and sipping tea here, but not today.
Nayyar then led us through a maze of narrow streets into other parts of Mohalla Piracha and we could see old wooden arches, balconies and wood-carved doors in almost every old haveli. The alleys were reasonably clean and it seemed like the local government was doing a decent job.
Our guide next took us to an elegant peeli kothi in Mohalla Sheesh Mahal. The kothi, or mansion, was a tall building on a small mound with an expansive courtyard and outhouses. It apparently belonged to a local landlord and the structure pointed to a colonial origin.
The problem with Bhera is that not many know about the history of these havelis and most of the time, your knowledge is based on guesses. Apparently, the mansion was built on the ruins of a centuries-old haveli, as the delicate brickwork on outer walls implied.
Our next stop was Mohalla Sheikhan. Again, a few large havelis told the story of a glorious past. The white 1840s mosque looked beautiful with its three domes.
As we were walking through these alleys, we came across many abandoned Hindu and Sikh temples. Nayyar told us stories of gold buried by Hindus leaving Bhera at the time of Partition. According to him, people still occasionally find these hidden treasures and even he had been lucky once.
We then went to the Eiffel Tower of Bhera, as Nayyar called it. This was an old Sikh gurdwara with a tower that provides a panoramic view of the town. The Sikhs left Bhera in 1947 and their place of worship was now an imambargah.
The gurdwara was in the centre of town with a bustling bazaar. Bhera is known for wood-carved objects, quilts and khussas, and besides pheonian, pateesa and warrian (a spice ball used for making curries) too.
It was afternoon and the weather was temperate, so we headed to the river bank almost a kilometre away from the city. The trek was muddy, but not too bad, and we crossed a Hindu temple, made by the Chopra family, on our way.
We were later taken to the Marhi of Bhera. The famous writer Bhisham Singh Sahni wrote Mayyadas ki Marhi set in Bhera and revived interest in this forgotten religious heritage.
Marhi used to be a religious site for Hindus — still is — though few come here anymore. There was a deep well in a dense palm grove and you could picture blindfolded bulls (kohlu kay bael) working their way in circles to draw water out of the well, while the religious proceedings led by priests continued.
Sher Shah Suri, after defeating Mughal Emperor Humayun, camped near Khushab and planned the construction of Rohtas Fort in Jhelum to consolidate his rule and curtail the threat from Ghakkars of Pharwala Fort. In 1541, he also ordered the construction of Sher Shah Suri Jamia Mosque in Bhera, apparently to appease the locals.
The mosque was in a typical Mughal pattern (yes, Suri was not a Mughal) with an entrance, a wide courtyard, an ablution water pond in the middle, the main mosque with domes in front and minarets at the four corners.
The architecture of the mosque was in a similar pattern to the Badshahi and Wazir Khan mosques. It had a small museum and a seminary and has been administered by Bugvi family since the 19th century.
Bhera also used to be the terminus on the Malakwal-Bhera line, but the last train departed from here decades ago. The huge station with its waiting rooms, station master's office, ticket windows and tracks are now dilapidated, but the lovely turntable — a circular mechanical structure usually at the last station on the line to turn the direction of the engine — was still there.
And for railway buffs, the 1887 Victoria Railway Bridge on the River Jhelum is just a 30-minute drive away, still serving the Malakwal-Pind Dadan Khan line.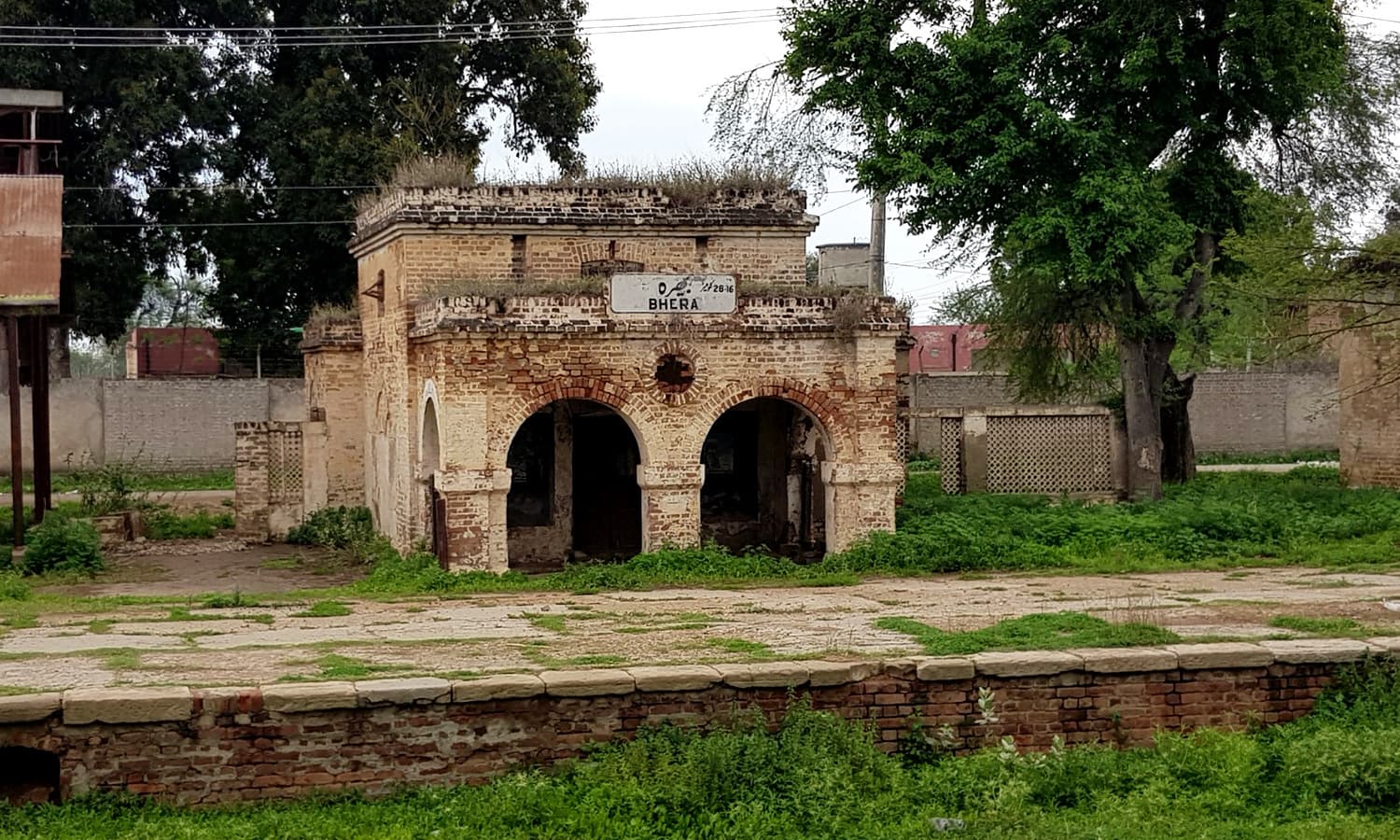 Nayyar would not let us go without visiting the Bhera Government High School. Inaugurated in 1927 by Sir George Anderson, the school was a typical colonial school with vast grounds that has churned out many politicians, civil servants and other notables for 90 years.
The residents of Bhera rose to become judges, actors, doctors and entrepreneurs, but few stayed behind or maintained their connections with the city — and that's how Bhera became a forgotten town somewhere near Sargodha.
The town has a long history and the authorities may consider doing a heritage project on the lines of the Shahi Guzargah Project in Lahore. A number of these havelis, temples and structures can still be saved.
With a river at one end and ancient mosque and colonial railway station at the other, Bhera has all the potential to be our own heritage resort in Punjab's heartland.
---
Are you exploring Pakistan? Share your experience with us at prism@dawn.comTwitter ShareFacebook Count1686
---
Omar is a development professional with a passion for travel and heritage. He also blogs at www.countryroads.pk and can be contacted at omarmukhtar16@gmail.com.